President's Corner
Collaborate. Optimize. Respond. Empower.
Growth and Exciting Changes at Tech
CORE MSS
Continued Growth and Exciting Changes at TechCORE MSS - October 2021
We at TechCORE MSS are proud to be an innovative solutions company always on the cutting edge of evolving Modernization and Digital Transformation solutions. We have embraced these changes in the digital world including Automation Anywhere the leading RPA platform and continue to offer improved services to our clients.
TechCORE MSS has been awarded "Most Promising Electronic Contract Management Solution Providers" in CIOReview Magazine's September annual listing of 20 leading ECM solutions providers. CIOReview is a print and digital magazine with a subscription base of 187,000 qualified tech-oriented management, engineer and consultant readers. The TechCORE MSS team has much to be proud of for its work in ECM program management work including project, financial, schedule, quality, data, risk, and change management requirements of diverse markets and industries, including IT, federal, healthcare, financial, insurance, retail, audit and accounting, realty, legal, and telecommunications. I invite you to read the CIOReview September feature here – we are honored to receive the feature and be recognized with the ECM award seal.
Throughout each advance our core principles remain constant.  We maintain our commitment to:
Deliver quality work to our clients
Remain Ethical in everything that we do
Efficient Project Management
Respect and Trust for all
Honest Collaboration
Continuous Learning and Innovation
Empowered Productivity
Personal and company responsibility
Our business culture is one that remains accountable for creating an environment where everyone feels uniquely valued, supported, welcome to share ideas, ask questions, and raise concerns, for as we ask, so we grow. This trust, respect, and sense of togetherness is essential in making TechCORE MSS a great place to work, as it fosters collaboration, learning, innovation, productivity, as well as personal and professional growth.
Our valued staff is encouraged to create appreciation for the diversity each brings to the table and embrace a work environment that unleashes talent, values the opinions of all, encourages curiosity and allows every single one of us to feel valued and empowered to fully engage in work every day. Our commitment is always to be the best.
So, my valued TechCORE MSS colleagues and clients, I am grateful for all of you who believe in our vision and support our commitment for robust growth, ingenuity, and dedication as the company grows.  We will always remember to not lose sight of our vision to provide value-added services and products through the solutions that we offer.
Quanetta
President and CEO
October 2021
Remembering to Stay Safe and Prepared during these days of Wild Weather - September 2021
We at TechCORE MSS hope that everyone is well especially those in areas of the recent "wild weather."
September is 2021 National Preparedness Month, and local communities will be offering Community Emergency Response Team (CERT) training. CERT is a group of people organized as a neighborhood-based team that receives special training to enhance their ability to recognize, respond to, and recover from a major emergency or disaster situation. Teams are trained by professional responders in areas that will help the teams take care of themselves and others before, during, and after a major emergency. As an organized team, individuals can provide vital services in the absence of, or while waiting for, the arrival of emergency responders; they often also assist once responders arrive.
The hurricane season doesn't end until as late as October/November, and so at this time, we are reminded of the precautions that we should all take and the emergency supplies that we should always have on hand.  Your emergency survival kit should have everything you and your family would need to be safe and take care of yourselves for at least three days immediately following an emergency (and don't forget a kit for your pet).
Pro tip: Hurricanes and other extreme rain events can ironically impact the water supply. Be sure you have enough clean water to last a few days.
For our local community the following links provide information about CERT training:
Arlington: https://emergency.arlingtonva.us/get-involved/cert/ (fall classes start September 8th)
Alexandria: https://www.alexandriava.gov/CERT (fall classes September 9-October 23)
Fairfax: https://fairfaxcountycert.org/ (also fall options)
To find a program in your area, you can search FEMA's site at:
https://community.fema.gov/PreparednessCommunity/s/cert-find-a-program
In addition to emergency preparedness information, as part of our commitment to provide information and service to those in our community TechCORE MSS recently distributed backpacks and other "back to school" supplies to children in our area.
We want everyone to be safe, and protected not only from COVID, and we make every effort to offer information and an awareness of the precautions that we should all take and the supplies that we should always have on hand to always help to be prepared.
Quanetta
President and CEO
September 2021
Excited about the progress of our Certified Appian Training Program (CAT) - August 2021
This month we are excited to report on the success of the TechCORE MSS Certified Appian Training Program (CAT).  CAT is our proprietary in-house training program which was launched in May of this year to upskill motivated individuals to gain entry to the burgeoning field of low-code business process management computer application development. The current 30- or 40-day sessions lead to developer certification testing in Appian's industry-leading low-code platform. Participants from across the country have registered in the training course and meet online daily for intensive low-code development training on the Appian platform, covering the full spectrum from why low-code development exists, which industries are being transformed with its solutions, what those solutions look like, and hands-on practical development experience.
As an Appian partner since 2010, TechCORE MSS is uniquely positioned and has been able to instill over 10 years of the company's own practical development experience in the financial, healthcare, transportation, and government sectors. Through TechCORE MSS's Appian partnership, trainees have received access to Appian's test environment thereby gaining practical application experience which would otherwise have required years to acquire on-the-job.
Training has always been one of TechCORE MSS's strong suits. It provides computer, professional and management development and training for in-house staff as well as external clients.
We are particularly proud of two of our recent in-house hires who have with enthusiasm successfully completed the training and gained their Appian Level 1 certification. We congratulate and celebrate the accomplishments of:
Bhavya Kanuganti – Appian Level 1 Developer
Gayathri Kamadurai – Appian Level 1 Developer
As a veteran-led organization (in fact, TechCORE MSS is service-disabled veteran owned small business (SDVOSB) certified) we have a special corporate focus on outreach to include Veterans in our training program, and we are proud to have recently been recognized by Governor Ralph Northam and the Virginia Department of Veteran Services (DVS) as a "Virginia Values Veterans" (V3)-certified employer. The certification is awarded by the Commonwealth of Virginia to private employers committed to implementing long-term strategies and nationally recognized best practices in recruiting, hiring, and retaining Veterans. Veterans will be able to apply for government-sponsored training program tuition coverage.
Our training will be expanded to include not only Certified Appian Training Program (CAT) sessions but will also include – highly popular computer areas such as Pegasystems, Salesforce and Quickbooks, and prepare those completing the course to gain relevant certifications.
Quanetta
President and CEO
August 2021
Reinforcing our Commitment to Environmental Sustainability - July 2021
Long before "sustainability" became part of the American vocabulary before "green" became a verb, individuals who are now part of TechCORE MSS's leadership were already dedicated to environmental, social, and economic responsibility all of which now permeates all aspects of the company's activities, and today continues to be at the forefront of the firm's consulting services. TechCORE MSS staff is a group of individuals who are passionate about a personal practice of sustainability both in the office and in their homes, as well as while performing projects. We recognize that "sustainability" is synonymous with cost-effectiveness and our services and solutions make every effort to protect natural resources while delivering the highest quality possible, for the lowest possible cost.
Sustainability is NOT a buzz word but includes:
Standard: "Shaping the built environment to maintain and enhance the natural environment"
Adjective: Able to be sustained; not becoming obsolete; attaining balance
Assurance: That which can meet future needs without escalating use of future resources
We at TechCORE MSS Care!
We believe in Federal, State, and Local Government initiatives and legislations and we focus on:
INNOVATION: Solutions using state of the art technologies.
EFFICIENCY: Solutions to eliminate wasteful processes or spending.
OPPORTUNITY: Application of critical thinking to project challenges.
SUSTAINABILITY: Training our client and employee network to be fully engaged with agile, light-footprint processes that nimbly scale for growth and efficiently cut redundancies.
We know that by reinforcing our commitment to sustainability we will definitely add value as we continue on our growth to provide quality and professional services.
Quanetta
President and CEO
July 2021
Increasing Company Growth and Visibility for Continued Success. - June 2021
Last month we told you about our commitment to the philosophy of:
"DO IT. DO IT RIGHT. DO IT RIGHT NOW"
As we continue to commit to increase our growth and capability, we have introduced the TechCORE MSS Certified Appian Training Program (CAT), a 30-day intensive hands-on training program that clearly lays out low-code development fundamentals, provides real-world skill application experience, and personalized instruction. We are excited to announce that in addition to training our full-time staff, we have had a tremendous response from interested members of the public, including recent college graduates, as well as our nation's veterans. We encourage everyone with a willingness to invest in themselves to apply for CAT.
The TechCORE MSS CAT training course includes:
Live instructor-led sessions
Introduction to low-code development
Hands-on application practical exercise and development experience
Appian certification testing
We are excited to announce that our first group will be graduating and become Appian-Certified this month. This increases our capacity to offer more Appian-certified personnel to our clients. Specific Congratulations are offered to our recent hire Bhavya Kanuganti, who came on board last month as a Senior Dev. Op Engineer but jumped right in and mastered the Appian application.
We plan to offer a similar Certified Pega Training Program (CPT) in the near future.
We further demonstrate our growth and business development initiative by welcoming Will Rohde to the TechCORE MSS family. Will has joined the firm as Vice President of Growth, Strategy and Development, and brings more than 20 years of strategic growth and Business Development experience. We are excited to have him onboard.
Finally, I extend my personal thanks to all staff. Because of you we have continued to become a preferred consultant to our many clients. You, our valued staff are the heart and soul of TechCORE MSS who helped us to remain open for business during the COVID-19 period.
Quanetta
President and CEO
June 2021
Uninterrupted Service While Being Ready for Post COVID-19 Success. - May 2021
In spite of COVID-19, we at TechCORE Management Solutions Services, ™ LLC have not paused, but have demonstrated our commitment to provide quality service to all our clients as we continue on our amazing journey as a company. We reaffirm our commitment in "Bridging The Gap Between People, Process and Technology" and advancing the potential of the company we've built.
During this period of the Pandemic, we have continued to operate focused on safety and creativity. Many of us have received our COVID-19 vaccinations and with no down-time, continue to leverage the expertise and diversity of all of our valued staff and consultants so that we will be ready for when everything is "back to normal."
We have participated in PegaWorld INspire 2021 to partner with their advancement to better Optimize, and improve Transformation, Agility, and Fluidity to better provide integrated and efficient services. In addition, we are particularly excited to have gained additional staff in the past month and increased our qualifications and capability with our new hires which include certified Subject Matter Experts for Pegasystems, Appian, and Salesforce, as well as a senior Scrum Master. We have also been selected as a diversity business partner to Microsoft., In addition, we are matching our core strength to several RFPs, RFIs and RFQs each offering opportunities for TechCORE MSS to uniquely optimize client workflows and customer interaction.
Until such time as we can abandon our masks and with enthusiasm safely greet one another again in the office, we continue to be creative with technology and new tools as we serve our clients and their projects, because we have:
Formalized advanced in-house training for our staff to gain additional senior level expertise, certifications and qualifications related to our software applications,
Successfully adjusted to working remotely while maintaining communication via ZOOM meetings,
Enhanced company information and public communication through our new website,
Committed to always be "Open for Business."
As we continue on our growth to provide quality and professional service, we are committed to our philosophy of:
"DO IT. DO IT RIGHT. DO IT RIGHT NOW"
Quanetta
President and CEO
May 2021
Responding to an Opportunity to Serve our Neighbors & Community. - April 2021
At TechCORE MSS in addition to the IT and Professional Services that we provide to clients, our corporate policy includes a commitment to provide volunteer service to our local community, and we are especially pleased when that service can help to bring joy to children.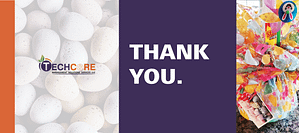 This month we at TechCORE MSS were excited to partner with Bethel Worship Center to assist with their efforts to make and deliver 200 Easter Baskets to local children. Gift baskets included Easter candy, children's books, toys and other Easter surprises. We continue to seek opportunities to demonstrate our commitment to serve others, and we were so happy to participate in this generous effort and to experience in a small way, the joy that brought "blessings" to the lives of those families and children.
Thank you to everyone who helped with this great project to bring Easter joy to our neighbors!!
Quanetta
President and CEO
April 2021
A BPM Approach to Cyber Security Monitoring - March 2021
We recognize that the world of cyber security has changed. Gone are the days where a modest amount of protective technology and strategies provide a reasonable amount of security and residual risk. In a fast-evolving business world, areas of risks seem to evolve even faster than new preventative technologies. Governments and corporate entities are now faced with the reality that compromise is not a possibility, rather a reality. Checklists and audits do not provide the protection to prevent determined adversaries. All organizations have been, continue to, or will be compromised to some degree.
We have all become more vulnerable particularly during this time while we continue to work remotely with regular online meetings and sharing of information. We can now all access data from phones and tablets everywhere we go with privacy being a key concern. These devices are increasingly being used to access data for work purposes and have effectively extended the business network to areas with little control and even less security. This highly mobile workforce has blurred the traditional boundaries of layered security. When mobile employees use their hand-held devices to access data and company information, these devices become new attack vectors adversaries will utilize. Cloud computing and mobile applications are now mainstream, and data is moved into various cloud storage facilities with varying degrees of access
At TechCORE MSS we have a strong focus on BPM processes that reduce the time of compromise and limit exposure. Time is the key factor. It takes time for adversaries to compromise and enter systems and once they enter, they seek to establish "persistence" to seek out and find information they are looking for. We know that we need to keep data safe and secure. Traditional approaches to security have in large part failed. Thousands of companies have realized they have been compromised while thousands more are unaware until notified by others. Security protection involves "prevention" as well as "detection."
Incorporating a Business Process Management (BPM) lifecycle approach into security processes to identify key assets, implement network and continuous security monitoring are a key strategic approach. Through analysis and implementation of these processes, the time of compromise could be reduced, persistence negated, and the likelihood of successful attacks decreased.
BPM solutions can help organizations integrate data security and authorization processes into user operations in an efficient way. BPM solutions are adaptive, scalable, and uniquely efficient for organizations' data security and authorization processes. We can work with Clients' executive, management, and IT/security teams to help define the profile of an ideal cybersecurity monitoring system and understand what needs to be accomplished, navigate the pros and cons of different architectures and technologies, determine the potential benefits, and develop recommendations.
Our company has continually been rated amongst the top ten BPM firms, and we know that with our experience we can contribute to using BPM as a cybersecurity solution.
Quanetta
President and CEO
March  2021
Continuing with Superior Performance in a CoVid-19 Era - February 2021
At TechCORE MSS we will always recognize that our people are our company.
At the start of 2021 it continues to be a challenging year for businesses. As I stated in my monthly letter in November, "just as our country is built on the strength of our people, so is our company." We work hard to create and maintain an environment that demonstrates our policy and practice of inclusiveness and respect for all individuals as we focus on making sure that it is reflected in the excellent work we provide to our clients.
This month is Black History Month and TechCORE MSS is proud of the fact that we have made our workplace inclusive, equitable and welcoming to employees of diverse ethnicity and backgrounds and that we demonstrate that our vision and goals are to provide quality service while we keep our people safe and healthy. People come to work at TechCORE MSS because of our culture and because they believe in our vision which we clearly articulate to our people and our clients. It is our mantra, not just in February, but always.
We believe that it is essential to take care of our mental, emotional and physical health to ensure a wellness "balance," which is even more critical because of additional stress that we all experience during the era of CoVid-19. Although we have been working remotely for the past several months, we still focus on looking after our personnel by encouraging happiness through better nutrition, exercise and meditation. We believe in safety and wellness and we become energized so that we can continue to make a positive contribution in the workplace as well as the work that we do for our clients. While we continue to work remotely with regular online meetings, presentations, and demos, we have improved our communication skills and make sure that we remain safe and secure online.
We are so excited and proud of the fact that our belief in who we are, and our commitment to our people and clients, TechCORE MSS is recognized in the December issue of CIO Magazine as one of the top 20 Most Promising Enterprise Information Management Solution Providers for 2020.
We are committed to maintaining that reputation as we continue to provide Enterprise Information Management Consulting Services and Solutions with our employees of diverse ethnicity and backgrounds, and who provide quality service while we keep them safe and healthy.
Quanetta
President and CEO
February 2021
Ready to "take it up a notch" in 2021 - January 2021
Happy New Year to everyone!!
With the start of a new year comes the sense of a new beginning. Many of us will make New Year's resolutions. Some will succeed and follow through with these goals. Some will simply recommit to goals they have set in the past, but for whatever reason, were not able to see come to fruition.
I, too, have set a number of goals – both personally and professionally. While I have new goals for myself and for our firm, there is one goal to which I plan to "recommit." It is a goal I try to expand on each and every year we are in business, and that is to better live up to the TechCORE MSS standard of bridging the gap between People, Process, and Technology.
The beginning of a new year is often a time of reflection as we pause to look back on the past year, but also make plans as we look ahead to what 2021 will bring. I am excited with the way the year has started and the outlook for our path forward in 2021, and beyond. I am proud of what we have accomplished. We are all part of an amazing organization; we help great clients do great things. This year we shall continue to solidify our vision and mission, and more effectively articulate it to our people, and our clients. I am confident that success will follow.
I am excited about the momentum with which we have entered the new year. We have established good growth and company visibility that support our goal to be an employee- and client-focused Consulting and Services Company. I thank all our valued staff and clients for our relationships and continued efforts which give me confidence in the progress we're making on our journey to be the company of choice to an ever-increasing list of clients for the quality services that we provide.
We continue to take the necessary steps to ensure our long-term success. This includes streamlining operations to deliver work more efficiently, better align our resources against demand, and to offset continuing market challenges. Our staff has a commitment to continue working harder, smarter and more creatively than ever so that we will succeed in "Growing the Business" by penetrating new markets, and adding new capabilities, just like we have done since we opened our doors. The only difference is that this year, together, we plan to take it up a notch.
Quanetta
President and CEO
January 2021
Proud of Being a Collaborative & Creative TechCORE MSS Team. - December 2020
As we prepare to bring 2020 to a close, I find myself humbled but energized by the reality that I am fortunate to lead an organization like TechCORE MSS. Like many businesses and particularly as a small business, we have had to navigate our ability for continued operations during "the year of COVID-19." Our people have proven to be creative, trusted partners whose expertise, focus, and passion are recognizable in the transformational work we do for our clients.
In spite of COVID-19, we continue on an amazing journey as a company. Our success in "Bridging The Gap Between People, Process and Technology" and advancing the potential of the company we've built, is closely linked to our ability to collaborate and fully leverage the expertise and diversity of all of our valued staff and consultants. Supported by technology, new tools and colleagues who possess a strong spirit of cooperation, we've made great progress in collaboration, and mutual respect for our individual talents, united by our shared purpose and a desire to do amazing things.
It's easy to do things the way we've always done them, but sometimes there may be a more efficient way, but it's far more difficult to step outside our comfort zones. When we collaborate, we acknowledge that there might be a different approach to consider beyond what we have always done. When we collaborate, we go beyond just identifying experts or case studies; rather, we engage those experts in a way that drives creative thinking. When we collaborate, we tap diverse points of view across different areas of the company, challenge ourselves, and work through solutions that power innovative outcomes.
In response to COVID-19, we have made creative adjustment and had significant accomplishments during 2020.   For example, we:
Adjusted to working remotely while maintaining communication via daily ZOOM meetings
Established our new corporate office space in Stafford, Virginia which qualifies us for HubZone certification
Created and launched our new websites
Expanded our qualifications and capability by obtaining multiple new certifications
Increased our visibility through attendance and active participation at conferences (Appian World; Pega World; USPTO Small Business Networking Conference; Montgomery County Chamber of Commerce Procurement Conference; NIH Small Business Program Office Vendor Outreach; Smithsonian; etc.)
My wish is that we all remain safe and healthy, and that everyone will have a Merry Christmas and a Happy Holiday. I look forward to our being able to end the year with even greater accomplishments as we continue on this positive trend, and recognize that we are all on the same team and commit to be more collaborative and creative in everything that we do.
Quanetta
President and CEO
December 2020
Increasing our visibility and becoming "known, "liked," and "preferred." - November 2020
TechCORE MSS continues to demonstrate our belief that "challenges are opportunities to innovate." The commitment that we have to our clients has allowed us to maintain a steady growth, acquire new contracts, and recruit new staff with exceptional qualifications and experience, so that as we focus on our clients we can provide the superior project services that they deserve.
Our performance has helped us develop relationships to further establish TechCORE MSS as a contender in the marketplace. We are happy that we are being recognized by our valued staff to be one of the "Best Places to Work," and are well on the way to becoming the envy in our industry. In addition, we are actively working to increase our visibility, and are excited that we have become "known," and "liked," and we continue to work at becoming more and more "preferred" by our clients so that we can become the firm of choice for the services that we provide.
Our message has traditionally focused on what we do and how we do it, but without the "why we do it" it will be difficult to recognize our full potential. "Why we do it" can make a difference to our clients, our communities, our country, the economy, and of course to our business. Why we do what we do matters, and when we fully understand this, we become excited to come to work each day because we know that we have a purpose in the services that we provide for our clients.
As we prepare to celebrate Veterans Day and Thanksgiving, I reflect on our country and the diversity of peoples, beliefs, cultures, histories, and traditions that have come together to create this great nation. As we expand our client base beyond or local area, we at TechCORE MSS are proud of our commitment towards maintaining a workforce that represents the cultural diversity of our ever-changing environment. Whether with our clients, or employees, we constantly demonstrate that we maintain a policy and practice of inclusiveness and respect for all individuals.
Just as our country is built on the strength of our people, so is our company, TechCORE MSS. I am extremely optimistic for the rest of 2020, and our path forward in 2021 and beyond. I know that we will continue to succeed in being a company that is known, liked, and preferred if we focus on our vision, mission, and purpose to remain an integrated and diverse staff and client team.
Quanetta
President and CEO
November 2020
Change is Good – Change is Inevitable – Change is Exciting - October 2020
This is an exciting time for TechCORE MSS! Times are changing and we are embracing the changes! We are excited to announce that on October 1, 2020, TechCORE MSS's office moved its new headquarters to Stafford, VA, with auxiliary locations in Alexandria, Arlington, Springfield, Fairfax, and Reston in VA, as well as Washington, DC, Bethesda, MD.
TechCORE MSS is a known proponent of scalability and flexibility, and we are now better able to meet current and future clients where they are, whether online or in person. In addition to increasing our responsiveness, we are also proud to announce that we are expanding our qualifications and capability by obtaining multiple new certifications. The company is a certified minority/woman-owned disadvantaged small business, (WBENC), certified Service-Disabled Veteran, and certified by the Veterans Institute of Procurement (VIP Start, Grow, International), LDBE (MWAA), SWaM, and is NMSDC certified. In addition, the location of our new headquarters in Stafford Virginia now qualifies us for HubZone certification, and we have a pending application for 8(a) Certification which will expand client resources for sole-source service providers.
As we approach this exciting development, we look forward to our future, and remain committed to continue on the path of stability and superior project performance, and to become a bigger company with additional expertise and new initiatives. We promise to continue to focus on our clients and their projects and the value that we deliver through the capabilities of our people. From top to bottom TechCORE MSS personnel continue to work harder, smarter, and more creatively than ever. We know that superior project performance and focus on our current as well as new clients will build relationships of trust as we face all the excitement that change, and growth can bring.
Our continued efforts will lead to new work; new work will lead to strengthened experience; strengthened experience will lead to internal growth; internal growth will lead to overall company growth; and overall company growth will result in greater opportunity for employees, market recognition, pursuits of larger and more complex projects, and ultimately a bigger and more successful TechCORE MSS.
So, my valued TechCORE MSS colleagues and clients, I am grateful for all of you who believe in our vision and support our commitment for robust growth, ingenuity, and dedication as the company grows, and we will remember to not lose sight of our vision to provide value-added services and products through the solutions that we offer.  View Our Team
Quanetta
President and CEO
October 2020